February 21-29, 2020
The Heart Nature
Yoga Retreat on the Osa Peninsula, Costa Rica
Imagine…
…waking up each day to the gentle buzzing of the jungle coming to life around you. Sipping rich Costa Rican coffee while rocking in a chair overlooking the forest as red macaws, toucans, whitehawks and hummingbirds sweep from tree to tree.
Imagine being in a place far from home, where Nature surrounds you with her beauty, offering plenty of space for adventure, contemplation, solitude, peace, inspiration, and surprise.
Join Hannah Gruber for a journey into the very heart of Nature: the jungle of the Osa Peninsula, where the precious and pristine rainforest invites you to step away from the worries, responsibilities, and stresses of everyday life to find inspiration and reconnect with your essential self.
A Secluded Hideaway
"Look deep into nature, and then you will understand everything better." -Albert Einstein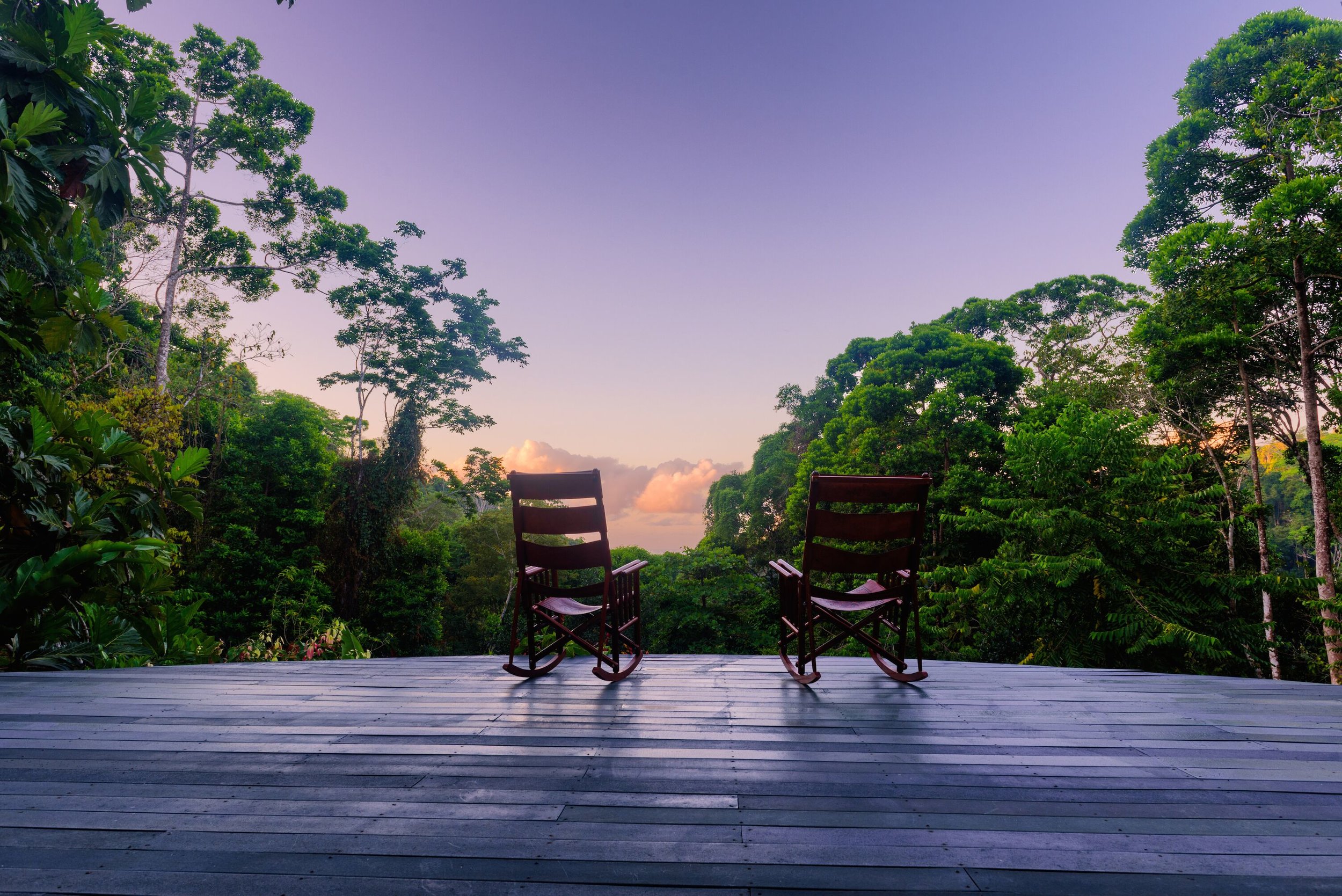 The Location
There is simply no yoga practice, meditation, organic food, or medicine that can restore the body as well as Mother Earth. Our private retreat in a secluded location is the perfect setting to spend time in quiet reflection as you watch the mysteries of Nature unfold around you.
Hannah has traveled extensively, and chose the Osa Peninsula for its remote location and incredible array of wildlife: plants, birds, animals, ocean, rivers, forest. 5% of the world's biodiversity lives in its forests.
Situated between thick primary rainforest and the vast Pacific ocean, just on the edge of Costa Rica's acclaimed Corcovado National Forest, the Osa offers wonder and delight at every moment. You will see birds of every color, ancient trees, endless beaches, and many other surprising creatures at each step and turn.
This is not a tourist-y destination, there are no high-rises, obtrusive highways and signs, or tchotkes being sold. Mother Nature herself is inviting you to reconnect at her core: where the air is more oxygen dense and the foods are fresher and more nourishing. Teeming with raw life and energy, rainforest and ocean are the ideal landscape for an immersive and restorative healing retreat away…
The Venue
The Luna Lodge is a secluded eco-lodge situated on 60 acres of primary and secondary rainforest. Designed and hosted by Lana Wedmore, founder of the Whitehawk Foundation, the lodge sets an unimaginably luxurious standard in the world of eco-travel.
Choose from an array of gorgeous and comfortable individual bungalows and glamorous "tents", each with private baths and a stunning view of the surrounding valley. Located above the Carate River Valley, the property is cooler than the coast and the Lodge always has a delectable ocean breeze. And, due to its unique location, the Luna Lodge is virtually mosquito-free.
Alongside the rancho, secluded in a beautiful garden, rests a natural rock encrusted saltwater pool: perfect for sunbathing, cooling off from a local tour, or just sitting and enjoying one of the most beautiful vistas in the world.
The Luna Lodge "Rancho"—an open-air restaurant, bar and lounge—is housed in a structure whose spacious deck is ideal for birdwatching, stargazing, or just absorbing the energy of the rainforest.
The pleasant, intoxicating aromas of ylang-ylang, frangipani, and night-blooming jasmine permeate the grounds. Counted among the fruit trees are mango, water apple, papaya, banana, china fruit, mandarin orange, lemon, cacao, avocado, cashew, plantains, and pineapples. The Lodge also boasts their own chilies, turmeric, oregano, basil, mustard, ginger, cilantro, and other herbs and spices, and grows much of the food onsite that is served to you at each meal.
The Staff
One of the most important aspects of travel is the service: and the staff at the Luna Lodge offer a warm and memorable reception from the moment you arrive in the airport.
The staff at the lodge are always available to serve you: whether you need a refreshing mint lemonade, or you want binoculars to take a closer look at that 3-toed sloth in the tree, or a little iced coffee for an afternoon pick-me-up.
Professional naturalists and guides are always around to help you spot interesting birds, animals, and other creatures. Only the most highly knowledgeable guides lead our hikes and excursions.
Receive massage or reiki treatment from experienced and gifted bodyworkers and healers.
The Food
The most important part of any retreat? The Food!
During your stay at the Luna Lodge, you will dine on inventive cuisine and exotic native dishes, homemade breads, organic fruits and veggies, and scrumptious salads, accompanied with natural juices, sodas, or your favorite tropical libations.
Everything at the lodge is prepared fresh and naturally each day, and will energize you to launch your rainforest experiences. Your retreat includes daily breakfast, lunch, and dinner. Coffee is served all day, and is included in your stay. Cocktails are available throughout the day, so you can sip a Mai-Tai while relaxing by the pool.
The culinary staff at the Luna Lodge is happy to accommodate your dietary needs or restrictions. Please be sure to let us know in advance so we can serve you best.

The Retreat
For 7 full days and nights, you can be sure your 5 senses will be nurtured and satisfied.
You will enjoy succulent tropical fruits, eat your fill of healthy, delicious gourmet meals, and sip on rich Costa Rican coffee.
Spend your afternoons swaying in a hammock, or catching up on sleep under the shade of a palm tree. Or maybe you'll enjoy a relaxing swim in the ocean or bathe in one of the nearby waterfalls.
Perhaps you choose to experience the exquisite Nature of the rainforest while birdwatching or hiking with a local guide. Experience deep release through massage while the ocean breezes caress your skin. Read, reflect, write in your journal while gazing at the majestic sunset; and fall asleep to sounds of Nature just outside of your bungalow.
On this retreat, you will perfect the art of nourishment, self-love, care and attention. You will release stress, and recharge your body with healing energy, vitality, and a renewed sense of purpose.

Yoga with Hannah
Hannah is known for her empathic, compassionate, and thoughtful approach to yoga asana, meditation, and healing practices. Each class is intelligently designed to help you unravel and open the places that are stuck, heal and strengthen the parts of you that feel weak, and empower you through down-to-earth teachings and insights.
Sought after for her therapeutic model of teaching yoga, Hannah brings together her knowledge of biomechanics and alignment, Ayurveda + the energetics of the subtle body, breathwork, over 15 years of philosophical study, and Intuitive insight and ability to teach students of diverse abilities and backgrounds.
Daily Yoga Classes will consist of movement (asana study), lecture (introduction to philosophical concepts and subtle body energetics),and meditation (guided meditation and breathwork practices). The curriculum is customized to help you find balance—both on and off of your mat. Individualized instruction will be given to each student to help empower you to grow in your own yoga practice.
Expect to gain insight and understanding into the steps you can take to deepen your own practice so you can integrate the wisdom of yoga into your personal experience.

This retreat is for you if:
You are tired of feeling tired

You are excited to make changes and take control of your wellness, to experience the benefits of yoga, meditation and living mindfully

You feel new to yoga, meditation, or mindfulness, and nervous about working with just any old teacher OR a seasoned practitioner seeking to grow your personal practice OR a yoga teacher, therapist, bodyworker or caregiver looking to expand your skill set
You are looking for a guide who respects and understands the uniqueness of your body and your individual needs

You are looking for practices and methodologies that NOURISH your body, RESTORE your energy, and mindfully rebuild your strength

You know you need to make time to get back in balance, recharge, so you can be your best self

You are looking for a logical, pragmatic approach designed to help you experience greater mental, physical and spiritual alignment and emotional freedom
This retreat is not for you if:
You dislike Nature.

You dislike relaxation, and the opportunity to practice yoga in a beautiful location.

You aren't willing to take steps to relieve your pain and stress, and transform your wellbeing.

You don't want to do your own work and overcome your own beliefs.

You're attached to blaming outside circumstances for your happiness and success.

You enjoy making excuses, being negative or defensive.

You take more than you give.

Nature, personal growth and major breakthroughs bore you.

You're looking for a one-size-fits-all approach or pill that is going to fix your problems for you.
On this Immersion into Nature, yoga and relaxation, you will:
Nurture yourself at the deepest level possible, and experience complete energetic transformation

Discover what self-care means for you: how prioritizing the strength and health of your body, mind, and emotions doesn't TAKE time away from you, but empowers you to have the energy you need to feel successful and fulfilled

Practice alignment-centered therapeutic Yoga that is safe, effective, and allows you to strengthen and grow your understanding of your body and deepen your practice

Experience the power of meditation and healing through Nature, to provide you with the strength, courage, compassion, or pure possibility that you need to be your best you.

Spend an unforgettable week in paradise with tools, memories, and takeaways that will continue to be your assets for a lifetime
"Hannah Gruber is a modern-day healer."

A true traveler at heart, Hannah has always appreciated the secluded, enchanting corners of the world that offer an opportunity to turn inward and reflect. It's mystery and magic that keeps her spirit alive – and Nature has always provided a healing pathway to follow. She has led retreats as a yoga teacher and Ayurvedic Chef both locally and internationally.
She began her journey of yoga, meditation, Ayurveda, and energy medicine over 20 years ago when she felt dissatisfied by the Western medical approach and cultural discourse on how to care for and heal our bodies.
Deciding to take her personal health matters into her own hands, she became a student and mentee of Dr. Naina Marballi, a renowned Ayurvedic doctor, and learned the ancient art of Ayurvedic Culinary Medicine.
Forever curious and always exploring her various interests and superpowers, she became a certified yoga teacher in 2009 under the tutelage of Anusara yoga, and fell in love with a yoga practice that combined scientific, intelligent alignment and biomechanics with the study of a sophisticated system of mythology and philosophy.
In New York City, she is sought after for her therapeutic yoga classes, which intelligently combine compassionate, precise, and clear instructions with Ayurvedic wisdom.
Her culinary creativity flourishes through a Healing Foods personal chef business. She is known for her pop-up dinners and Supper Clubs throughout New York City and has been featured on The Food Network.
After her divorce, she became attuned to her Intuitive abilities and trained as a Clairvoyant healer. With this additional thread of knowledge, she now offers clients holistic consultations to help them experience great mind-body-spirit alignment and strategies for successful integration, healing, and growth.
Now she offers classes and consultations in Therapeutic Yoga & Meditation, Clairvoyant Reading, Ayurveda, and Whole Food Cooking and Nutrition. Always weaving wisdom together, she offers an intelligent, creative and compassionate approach that teaches you how to listen to your own heart and find your deepest strength and compassion. Read more about her work here...
7 days of guided yoga practices, lecture, meditation, and one-on-one support with Hannah

7 nights of hospitality-filled accommodations at the spectacular Luna Lodge from February 22-29

One night stay at the Luna Inn in San Jose on February 21, 2020.

7 delicious breakfasts, lunches, and evening meals prepared with local, fresh ingredients.

Private 45-minute 1-on-1 consultation with Hannah

Ayurvedic Strategies for Holistic Health Workshop with Hannah

2 Yoga Nidra Deep Rest Practices

Transport to/from San Jose International airport

Roundtrip domestic chartered flight (from San Jose to Carate) on February 22 and February 29.
Allow me to provide you with a little something extra…
A Clarity Call – 20 minutes of 1:1 time with Hannah BEFORE THE RETREAT so she can get to know you better and best support you on your journey
Access to a Private Retreat Facebook Group – so we can connect pre-trip (you can ask questions and receive update-to-date trip info) and then we'll stay connected post-trip – and of course swap photos!

Pre-Trip Group Call – you'll have the chance to meet everyone in the group, share your intent and learn how to best prepare yourself!

Post-Trip Group Call – we'll gather to help integrate your learnings once back at home!
What's Not Included in the cost of your retreat…
Your round-trip International airfare to/from your home to San Jose, Costa Rica on February 21 and February 29 (or whenever you choose to leave).

Personal, medical or trip cancellation insurance.

Tips for staff, including waiters/waitresses, tour guides, massage therapists, cleaning staff.
Other non-included items: souvenir shopping, personal phone calls, spa services, additional guided hikes/tours, laundry, and alcoholic beverages.
Bamboo Bungalow
limited availability!
$2999 double occupancy bungalow (per person)
$4099 single occupancy bungalow (individual)
Featuring two double beds, porch, and a luxurious private bathroom with garden shower and bathtub, the bungalow is everything you'd imagine and more: large windows and a high thatched-palm roof provide for ample air circulation, while walls of white cane add a decorative rustic touch.
One of the really attractive and unique parts of the bungalow is the lush private garden just off the shower, smoothing the transition to the rainforest outside, yet keeping it all protected with a handcrafted stone wall.
Bungalows give you ample room to stretch out and almost feel like a mini-home (especially if you're a New Yorker!) and have a beautiful handcrafted touch that offer a cozy, and luxurious feel.
Glamorous, fully enclosed, private Tent with full bath
limited availability!
$2299 double occupancy tent (per person)
$2999 single occupancy tent (individual)
Stare at the stars as you fall asleep in the amazing, completely enclosed "glamping" tents. More like a private bungalow than a traditional camping tent, these structures are built on platforms that overlook the entire property and boast the best views.
Either two single beds or one double bed, you will have plenty of room to relax, unwind and get comfortable for your week in paradise. The private bathroom is built into the structure and has hot water, shower, full electricity, closet and shelves to unpack and stow your belongings.
Open the tent flaps as you sleep and stare at the stars while the rainforest breeze lulls you to sleep. In the morning, sit in a rocker on your private balcony while you gaze at the rainforest canopy.
No need to worry about mosquitos as the tent is fully enclosed (and there aren't really any mosquitos in the rainforest anyway!)
Reserve Your Spot
If you've been running non-stop these days and your body, mind or soul are run down, then this is the opportunity you've been waiting for to step outside your everyday routine and sink deep into true R&R and return home ready to take on the world.
Hannah is taking a limited number of participants, so that you receive personalized care and attention throughout your retreat. Sign up early to Reserve your Spot.
Can't Make it to Costa Rica? Join Hannah on another Retreat…

Journey To Peru
June 21 - 30, 2019
On this high-altitude journey to one of the most powerful and sacred places on the planet, harness your innermost courage and warrior strength as you embark on a Yoga + Kundalini adventure with Hannah Gruber and Rian Bodner. Personal growth and Transformation guaranteed.*
Dai Bozatsu Zendo Yoga + Meditation Retreat
Spring/Fall 2019
Experience the art of Zen meditation on this local retreat to one of the most remarkable Zen monasteries in the country where ancient Japanese Buddhist traditions mingle with the surroundings of the Catskill mountains.
EGYPT.
October/November 2019
Travel always offers an opportunity to rethink your self and your world. As we travel through one of the oldest regions in the world, uncover new self-understanding and illuminate your power to grow and transform.